There are plenty of options when it comes to renting a car in Greensboro, N. C. Let us show you why Rent-A-Wreck is the best option for you. With a wide range of rental options, we are available from 8 A.M. to 6 P.M. Monday through Friday and 8 A.M. to 4 P.M. on Saturdays, in order to provide you with a top of the line rental experience. We offer affordable rates, insurance options, and the opportunity for drivers as young as 18 to rent.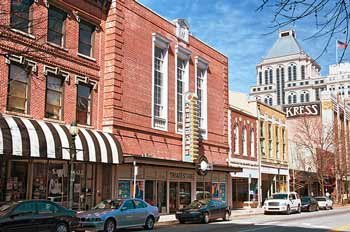 About Greensboro, N.C.
Founded in 1808 the city of Greensboro, N.C., is one of the fastest growing cities in the Triad. With a population of over 270,000 it is a flourishing city focused on preservation and restoration. With plenty of restaurants, historical sites, and parks Greensboro welcomes all ages to experience southern hospitality in the heart of North Carolina. Greensboro is conveniently located in the triad, providing easy access to Raleigh, High Point, Charlotte, and Winston Salem.

Directions to Rent-A-Wreck - From Downtown Greensboro
Head north on N Elm Street toward E Friendly Avenue. Take your first left onto E Market Street and continue straight onto W Market Street. In 3 miles we are on your left!

Visit Rent-A-Wreck
Rent-A-Wreck of Greensboro, N.C. is dedicated to providing you the best car rental experience possible. For any questions or concerns give us a call at 336-856-9504 or email us at greensboro@rentawreck.com. Feel free to stop in anytime, we would love to meet you! For information about reservations, rates or rental process, please visit our Frequently Asked Questions Page. We look forward to hearing from you!